Young Scholars Initiative (YSI)
We are building a home for a new generation of thinkers—an open environment for thought and inquiry. Our program provides mentorship and resources to further your understanding of the economy.
Join Us
The Finance and Social Justice conference to take place at the University of Bayreuth will discuss questions at the intersection of finance and moral and political philosophy. View details
The YSI Latin America Working Group is hosting a workshop at the ECLAC/UN Summer School on Latin American economies. View details
Overcoming intellectual divides
We have 21 Working Groups designed to foster a deeper understanding of economics.
What are economists talking about when they talk about inequality? And why is inequality even relevant to economics? The Inequality Working Group hosts debates, workshops, and presentations addressing both philosophical and technical aspects of the link between inequality and economics. Read more
The purpose of the group is to gather young scholars interested or working in innovation related issues. The group provides a platform to create professional and academic networks for young scholars to share and promote their work. Read more
Connect with experts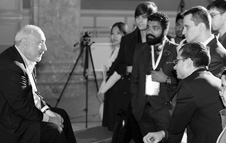 Meet the leaders and thinkers who are changing economics—and working with young scholars like you. Meet the experts